Food Insecurity On College Campuses
AffordableCollegesOnline.org is an advertising-supported site. Featured or trusted partner programs and all school search, finder, or match results are for schools that compensate us. This compensation does not influence our school rankings, resource guides, or other editorially-independent information published on this site.
Are you ready to find your fit?
Independent organizations have tracked food insecurity for decades. Feeding America, founded in 1979, annually maps hunger by region in the U.S. The federal government also provides research to shed more light on hunger.
Despite government data revealing increasing hunger rates, the federal government denied state requests to waive specific Supplemental Nutrition Assistance Program (SNAP) requirements for college students. Here, we discuss the scope of student hunger and possible solutions.
What Is Food Security?
Food insecurity's definition varies depending on the source. For example, Feeding America describes food insecurity as a household's inability to provide adequate nutrition for each family member to live a healthy life. Food insecurity can also describe when people do not know where their next meal will come from.
The United States Department of Agriculture (USDA) breaks down the meaning even further. Below, we outline the food insecurity ranges and the USDA's corresponding definitions.
High Food Security

This describes a household with no issues accessing food for every meal. Families with high food security do not face limitations acquiring nutritious meals.

Marginal Food Security

Individuals experiencing marginal food security feel anxiety surrounding food sufficiency or may fear not having enough food in the house. However, these people usually only experience small changes or no changes in their regular diet or food intake.

Low Food Security

These households report a decline in the quality and variety of their diet. They do not report a significant reduction in food consumption.

Very Low Food Security

People dealing with very low food security report several instances of reduced food consumption. They often experience disrupted eating patterns.
Frequently Asked Questions about Food Insecurity Support in College
Q. How does food insecurity affect students?
Some learners must choose between paying for tuition or food. According to a study by Temple University's Hope Center for College, Community, and Justice, 45% of college students surveyed deal with food insecurity.
Q. How do college students eat healthy?
College students can focus on eating protein, fibrous carbs, and healthy fats at each meal rather than processed snacks. Price matching the cost at various grocery stores and meal prepping can help students succeed in eating healthy on a budget.
Q. How does hunger affect education?
Critical thinking requires energy, and food provides energy. Hunger affects a student's ability to focus.
Q. How can college students afford food?
College students can apply for SNAP benefits, but they must work at least 20 hours per week or meet a specific exemption. Shopping at discount grocery stores and using free food pantries helps.
AffordableCollegesOnline.org is an advertising-supported site. Featured or trusted partner programs and all school search, finder, or match results are for schools that compensate us. This compensation does not influence our school rankings, resource guides, or other editorially-independent information published on this site.
Featured Online Programs
Find a program that meets your affordability, flexibility, and education needs through an accredited, online school.
Understanding Food Insecurity and Its Impact on Learning
The COVID-19 pandemic added to already increasing financial issues among Americans. Pre-pandemic, 44% of Americans reported living paycheck to paycheck. Now, 63% of Americans live paycheck to paycheck. Unfortunately, financial struggles, food insecurity, and education access often go together. Feeding America data indicates that 31% of food-insecure individuals had to choose between paying for food or education.
Furthermore, 38% of college students identify as food insecure. However, this number varies by state and by school. For example, 47% of undergraduate college students at the University of California experience food insecurity. Many of these learners do not qualify for SNAP benefits, which require college students to work 20 hours a week. Learners who attempt working this much can experience a decline in grades.
To afford food and tuition, many college students take out additional loans. These accumulate interest, leading to high loan payments after graduation.
Causes of Food Security

So what exactly causes college hunger? Many risk factors predispose college students. For starters, minority students are more likely to qualify as food insecure. These students often experienced food insecurity during childhood as well. In fact, according to Feeding America, Black families are twice as likely to experience food insecurity than white families.

First-generation college students are also more likely to experience food insecurity. One survey reveals that more than 56% of first-generation students identified as food insecure. Other students possess additional struggles on top of food insecurity. Currently, 14% of students at four-year colleges experience homelessness, and 26% of undergraduate students must provide for dependent children.

On top of these risk factors, learners must also deal with rising education expenses. Data suggests college costs have increased significantly over the past 20 years.

Impacts of Food Insecurity

More than 700 food pantries operate on college campuses, demonstrating the large need among college students.

College food insecurity impacts both individual students and America as a whole. When students cannot focus on their studies due to hunger, their grades suffer and they may end up dropping out. If food insecurity continues, the future workforce could struggle with finding qualified talent.

Data backs up these claims. Unfortunately, 81% of students facing food or housing instability reported hunger harmed their academic performance, according to a pre-pandemic study from the Association of American Colleges & Universities. Additionally, 8% of community college students with food insecurity planned on dropping out.

In the next section, we examine how the pandemic has further shaped America's current hunger crisis.
The Impact of the COVID-19 Pandemic
In 2020, Feeding America projected 1 in 6 people in America were likely to experience food insecurity. This figure marks a 4.1% increase from 2018. However, some states' hunger projections increased around 50%, including Massachusetts, New Jersey, Nevada, and Hawaii.
Specific results of the pandemic increased the hunger problem. The switch to online-only learning took away students' access to on-campus food banks and free club meals. Some states responded by adjusting SNAP benefits requirements so more people could qualify, and program enrollment increased by more than 20%.
With mandatory stay-at-home orders, many college students temporarily lost their jobs or received reduced hours. When they could benefit from SNAP the most, these learners could not meet the 20 hours per week work requirement. Only time can tell the long-lasting impacts of the COVID-19 pandemic on college hunger.
Interview with Dr. Nzingha Dalila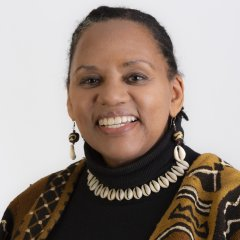 Dr. Nzingha Dalila
Dr. Nzingha Dalila is the director of counseling services at Antioch College. Dr. Dalila earned a bachelor's in African American studies, a master's in mental health counseling, and a doctor of education in counseling education and supervision. She is a licensed clinical counselor and licensed chemical dependency counselor and a long-standing member of the American Counseling Association. Dr. Dalila has served as assistant professor in human social services at the University of Cincinnati as well as a co-instructor for Dialogue Across Difference at Antioch College.
Q. How has the COVID-19 pandemic impacted food-insecure students? How are students coping with food insecurity?
With the COVID-19 pandemic, students have experienced an increase in food insecurity. Systemically, our institution has made changes in the ways that food is made available. We have had to ensure that food is provided to students with safe distancing. This means limiting access to prevent possible contamination instead of the regular buffet-style setup and reducing the number of students who can be in the same space simultaneously. The isolation that is required to keep students safe also means that students are not able to travel in groups to areas where they might purchase larger quantities of food at a discount.
We have collaborated with community groups to develop a food pantry on campus. However, our projects with these groups had to become limited or temporarily come to a halt. These issues do not reflect the food insecurity experienced by students who now have to study remotely. Many students are suffering loss of income due to the pandemic, or they are now responsible for managing the little resources they have with families. Previously, students who left home to live on campus could rely on meals provided as part of their campus housing plan.
Food insecurity results in a cascading effect of physical, mental, and emotional problems. These stresses are compounded by the lack of personal contact with others, studying in cramped spaces, Zoom fatigue, and overall structural instability of our society as we face the real issues of deaths, illnesses, and lack of government resources.
In addition to the physical fatigue that comes with food scarcity, the relationship between food insecurity and cognitive functioning is clear. We also know that there is a clear connection between stress, motivation, focus, and organizational skills. The COVID-19 pandemic has compounded these conditions, thereby putting significant strain on students' ability to successfully navigate their overall college experience.
Q. What are some of the biggest challenges you see students facing today concerning food insecurity?
The biggest challenges include many service-oriented jobs shutting down or cutting back on staff. Students studying remotely could be hit the worst because they may not be able to work, have to negotiate what resources are available with their entire family, and they do not have the guaranteed meals like those who are in residence halls.
Q. What has your college been doing to help students impacted by food insecurity during the pandemic?
Our kitchen team has made more individually wrapped snack food items available in selected areas of our residence halls. There are some other locations where students safely study on campus where snack foods are also available outside of the regular meal times, such as the library. Our Student Affairs staff have worked ceaselessly to fill the gaps for students, traveling to fill medical prescriptions or grocery supplies.
Q. Do you have advice for students who do not know how they are going to make ends meet?
The federal government has provided some special funding, and we have taken advantage of resources released by Ohio to address students' physical and mental health needs. We have encouraged students experiencing food insecurity to apply for SNAP.
Some students are eligible to receive up to $200 monthly to pay for groceries. Counseling Services offers assistance to all students in navigating the federal government website in the hope that this assistance will provide some relief and hope.
Support for College Students
Unfortunately, many college students facing hunger feel a stigma associated with receiving help. Organizations and volunteers work hard to make people feel accepted and welcomed, so struggling individuals should never hesitate to reach out. Food-insecure college students can seek assistance in the following ways.
Campus Food Pantries

Campus food pantries typically follow open-access rules, meaning any student struggling to access adequate nutrition may take advantage of the resources without required proof of income. Most food pantries provide perishable and nonperishable goods.

Meal Swipe Programs

Students who overestimate the number of meal swipes they need can donate their surplus meals rather than letting them go to waste. Some campuses host Swipe Out Hunger events. Ask your campus' activities council if your college hosts these events.

Deals Apps

Local businesses and chains often offer exclusive deals with a valid college I.D. Apps like Hooked and FeedShare help learners discover which places offer free items and student discounts.

Local Food Programs

If your campus does not host a food pantry or you need access to additional food, visit an area food pantry. For help locating food pantries, contact your nearest Feeding America Food Bank.

SNAP Benefits

The government places stipulations on which college students qualify for SNAP benefits. Generally, full-time students do not qualify unless they work more than 20 hours a week or participate in a federally sponsored work-study program. However, recently the program created temporary exemptions to allow more students to participate.

Community Assistance Programs

Organizations like The Salvation Army, American Red Cross, and United Way may offer assistance to college students experiencing food insecurity. However, these organizations provide help only when funds are available. If they cannot help at a particular time, a representative can connect you with an organization that can.

Community Kitchens

Area shelters, food banks, and churches regularly host community kitchens. Anyone can access a warm, nutritious meal at these venues. Some community kitchens function as pop-ups for weekly events, while others operate more frequently.

Potlucks and Club Meals

Common interest groups help individuals make new friendships, and they often host events that encourage conversation and connection through meals. You can also host your own picnic or potluck with close friends to share your resources. You only need to bring one dish, and then you get to eat an entire meal.

Summer Food Programs

Summer food programs help children access food during the summer when they will not receive school breakfasts and lunches. College students with dependents under 18 should ask their child's school counselor about enrollment.

Financial Counseling

Budgeting and organizing finances may help free up extra funds for food. However, professional financial counseling services cost money. Consider downloading a free budgeting app like Mint or seeking pro bono financial counseling services.

Food or Supply Drives

Many food and supply drive hosts send collections to the nearest food bank to distribute. However, some drive planning committees batch up collections to directly give to individuals and families in need.
How You Can Help Students Experiencing Food Insecurity
Hunger affects nearly every community in America. Fortunately, we live in a society full of helpers. College students can rally their friends to make a big difference in the community. Consider joining the fight to end student hunger in the following ways.
Start a Fundraiser

Rallying together for the greater good provides a way to build camaraderie among classmates. Local restaurants typically allow college groups to host fundraiser nights for a specific cause. Consider selling raffle tickets for a donated prize or hosting a ticketed movie night to raise funds to donate directly to a food bank.

Provide Home-Cooked Meals

College students can make home-cooked meals for friends who might struggle with hunger or experience financial hardships. Or, learners can work with a campus club to provide free weekly meals using donated items. Nonprofits like Meals on Wheels or local community kitchens may accept culinary volunteers as well.

Look for Opportunities at Your Local College Campus

Fight student hunger in your own backyard by looking for on-campus opportunities. If your campus houses a food pantry, volunteer at it or host a food drive for it. You can also help establish your college's first food pantry. Learners can encourage their student activity commission to host events that benefit the fight to end hunger.

Work with Local Places of Worship

Religious organizations often set aside money from tithes to positively impact the community. These groups host food drives, make home-cooked meals for struggling individuals, and coordinate food pantry efforts. Ending college hunger requires many hands, and collaborating with like-minded individuals makes a big difference.

Donate to Organizations Fighting Food Insecurity

Food banks, food pantries, and nonprofits accept monetary and physical donations. Even small gifts make a huge impact. According to Feeding America, $1 provides 10 meals. Consider setting up a monthly automatic withdrawal that goes straight to the nearest Feeding America food bank. Giving up one cup of coffee a month could provide 50 meals.

Volunteer at Food Pantries or Local Organizations

Do not let a limited budget keep you from helping your community. Individuals may also donate their time by volunteering to sort through donations or run food pantries. Community gardens also accept volunteers to weed, plant, and harvest produce for area pantries.

Spread Awareness

College marks a busy time, and you may not have any spare funds to donate. However, you probably know people with extra time and money to share. Spreading the word through social media or having one-on-one conversations generates awareness about the issue. The organization No Kid Hungry lists some ways you can speak up for youth experiencing hunger, but you can also apply these tips when advocating for college students in similar situations.
Resources for Food-Insecure Students
If you struggle with hunger, know that you are not alone. Check out these five resources for information on food pantries and realistic lifestyle tips.
Tessa Cooper
Tessa Cooper is a freelance writer and editor who regularly contributes to international and regional publications focused on education and lifestyle topics. She earned a bachelor's in public relations from Missouri State University and is passionate about helping learners avoid high student loan debt while pursuing their dream major. Tessa loves writing about travel and food topics and is always planning her next meal or vacation.
AffordableCollegesOnline.org is an advertising-supported site. Featured or trusted partner programs and all school search, finder, or match results are for schools that compensate us. This compensation does not influence our school rankings, resource guides, or other editorially-independent information published on this site.
Do this for you
Explore your possibilities- find schools with programs you're interested in and clear a path for your future.