Saving for Your Child's College Education
AffordableCollegesOnline.org is an advertising-supported site. Featured or trusted partner programs and all school search, finder, or match results are for schools that compensate us. This compensation does not influence our school rankings, resource guides, or other editorially-independent information published on this site.
Are you ready to find your fit?
Nearly all parents and students grapple with the question of how to pay for college. Cost is often the deciding factor that determines whether students attend college at all. Research shows that more than half of the time, parents pay tuition using their savings, current income, or by borrowing money. At a high level, parents should start early and save often. Here, we provide some specific strategies to build college tuition savings.
FAQ
When to Start Saving
---
Whether kids are in a high chair or high school, it is never too early or too late to save for college. A more nuanced answer, however, depends on individual situations.
First, make sure you build an emergency savings fund. Experts recommend keeping 3-6 months of living expenses available. This money can cover housing, food, transportation, and healthcare costs.
Next, calculate your debt-to-income ratio. Ideally, this ratio should not exceed 40%. If it does, work on reducing debt to better position yourself for short-term goals, like building an emergency fund, and long-term goals, such as saving for college. Finally, do not neglect your own savings for retirement. Financial experts recommend saving 10-15% of your income for retirement.
How Much to Save
---
Cost-related considerations include location, the college, and if a student qualifies for in-state tuition rates. Whether a student plans to attend college part time or full time also influences expenses. Other considerations include costs for books, lab fees, room and board, and commuting if a student resides off campus.
With so many options, costs vary considerably. For example, tuition at Tidewater Community College, a two-year school in Virginia, costs $185.35 per credit hour, or about $5,560 per year for an in-state student taking 15 credits per semester. In contrast, annual undergraduate in-state tuition at William & Mary cost $17,434 for the 2021-2022 school year. However, with books, fees, and room and board included, the cost rose to $40,220.
How to Save
---
A multitude of options exist to build college savings. Some are designed exclusively for higher education. Others serve as general wealth-building strategies. Whichever method you choose, experts frequently advise parents to start saving early and to make deposits automatic. Below we highlight nine approaches to saving for college.
Ways to Save
529 Plan
A 529 plan is a savings account with tax advantages intended to help pay for college. Almost every state, and the District of Columbia, sponsors a 529 plan. Wyoming does not.
Limit: Varies by state, up to approximately $500,000
How to Use: Similar to a 401k or an IRA retirement savings account, you can invest 529 account funds in various types of financial products, such as mutual funds. You receive state and federal tax breaks. Use 529 funds to pay for qualified higher education expenses, such as tuition, computers, and room and board. States administer these plans, so they may vary. However, you do not need to reside in a state to participate in its plan. A 529 plan does not require much management. That said, you can only use money in a 529 plan for education.
Withdrawal Penalties: Income taxes plus 10%
Education Savings Account
A type of trust or custodial account, an Education Savings Account (ESA) is exclusively used to pay for specific K-12 and higher education expenses.
Limit: $2,000 annual contribution maximum
How to Use: There are certain requirements to establish an ESA. These include designating the account as an ESA in writing upon its establishment. The beneficiary must also be under age 18. Distributions from the account are tax free for qualified expenses. However, under IRS rules, a portion of any disbursement earnings exceeding qualified expenses may be taxable. Also, once the beneficiary reaches age 30, any remaining funds in the account must be disbursed unless the beneficiary has special needs.
Withdrawal Penalties: Taxes on earnings plus 10% penalty
Federal savings bonds are considered a low risk investment with moderate returns. If you use the principal and interest earned to pay for higher education tuition, some or all of the interest earned can be excluded from your gross income. However, the money cannot cover expenses for books or room and board.
Limit: None
How to Use: A lengthy list of rules apply. In short, they include that eligible education expenses must occur in the same tax year you redeem the bond, and you must use all bond funds to pay education-specific expenses only. Also, you must maintain itemized records and report bond payments to the IRS. Individuals may use savings bonds to contribute, tax free, to a Coverdell Education Savings Account. However, keep in mind that bonds may not mature in time to align with your educational goals. Also, only specific types of bonds (Series EE and Series I) issued after 1989 qualify for the education program.
Withdrawal Penalties: Varies
Uniform Transfer to Minors Act
Although not designed specifically for higher education, a Uniform Transfer to Minors Act (UTMA) account can help save money for college expenses. An adult serves as the account custodian until the beneficiary reaches age 21. Individuals can invest money in a UTMA in various ways, including in stocks.
Limit: None. However, annual contributions of more than $15,000 will trigger gift tax rules. The contribution maximum is $30,000 if married and filing jointly.
How to Use: UTMA investments are not exempt from state or federal taxes. The money will also count against federal financial aid. Custodial control of the money ends when the beneficiary reaches adulthood. A UTMA can accept royalties, patents, and real estate. You may use money in this type of account for any purpose.
Withdrawal Penalties: None
Although best known as a retirement account, a Roth IRA has advantages for financing education.
Limit: Contribution limits are $6,000 annually under age 49 and $7,000 at age 50 and older. Also, contribution limits begin to phase in once your income exceeds certain thresholds.
How to Use: Contributions to Roth IRAs are tax free. Contributions can be withdrawn anytime. But earnings cannot. If you are at least age 59 and a half, and your first contribution to the IRA was at least five years ago, all withdrawals are tax free. If you withdraw money before that age but use it for college, there is no early withdrawal penalty, but taxes apply. As an advantage, you can set remaining money aside for retirement. However, Roth funds can count against financial aid.
Withdrawal Penalties: 10% plus income taxes
High Yield Savings Accounts
High yield savings accounts pay higher interest than standard savings accounts.
Limit: None
How to Use: Parents use this type of account for large expenses, like college. Money in high yield investments does not lose value. The interest rate, however, may vary. High yield accounts are liquid, meaning you will retain easy access to the money. Most financial institutions offer this service. However, some of the downsides include making minimum initial deposits, maintaining a minimum balance, and paying recurring maintenance fees.
Withdrawal Penalties: May apply if you exceed six withdrawals in a month
Permanent Life Insurance Policy
Permanent life insurance builds cash value over time. The policy holder can borrow against that value. In some cases, the owner can even withdraw cash from the policy.
Limit: Policy limits apply
How to Use: Tapping into a permanent life insurance policy to help pay for college may require some advance planning. You must often undergo a waiting period to allow the policy to build cash value. However, these types of policies offer some tax advantages. For one, as long as the policy remains active, you do not pay taxes on earnings. Also, loans against the cash value of life insurance policies are typically not considered taxable income.
Withdrawal Penalties: Varies depending on policy terms
Eight percent of families chose a home equity loan or home equity line of credit in 2020 to help pay for college. They borrowed an average of $4,218. And more people tapped into home equity in 2020 versus 2019. However, the average amount borrowed was down from $7,972, according to Sallie Mae.
Limit: Varies
How to Use: Using home equity loans to pay for higher education has some advantages. First, access is easier, especially if you have an existing home equity line of credit. Sometimes access to the money only requires writing a check. In addition, interest on home equity loans is tax deductible. But there is a potentially risky disadvantage: Your house is the collateral. In addition, your home may not have enough equity to provide the borrowing power you want. Also, these types of loans do not offer much flexibility during times of economic hardship, like the coronavirus pandemic.
Withdrawal Penalties: None
Mutual funds use pooled money from investors. Professional money managers then use the funds to try and achieve a return on investment from stocks, bonds, and other financial assets. Mutual funds typically consist of many types of investments, which mitigates some of the investment risk. The risk is usually proportional to the potential return.
Limit: None
How to Use: Mutual funds offer flexibility. Considered liquid assets, you can easily cash out your funds. You can use the money for anything, whether it relates to education or not. However, earnings are subject to taxes. And mutual fund assets owned by a student can reduce financial aid eligibility by 20%. Because of the risk, tax profile, and impact to financial aid, some professionals say mutual funds are not the best choice for financing college.
Withdrawal Penalties: Varies depending on account type
How Children Can Help
---
Children should play a direct role in saving for their college education. Parents can help their children save by encouraging and modeling smart financial behavior. Start by opening a savings account for your kids. If they receive birthday money, for example, encourage them to save it instead of spending it.
Students who work part or full time can save some of their earnings for college. Working students also benefit from gaining resume-boosting job experience. Taking advanced placement, or AP, classes can also defray the cost of college. AP classes are college courses taken at the high school level. These classes count toward a college degree.
Finally, students approaching their high school graduation should submit the Free Application for Federal Student Aid and apply for scholarships. Students can also increase their chances of receiving scholarships by maintaining good grades and participating in extracurricular activities.
VP of Odyssey Group
Interview with a Financial Advisor
Q. How important is it for parents to save for their child's college education?
Ask 10 parents about their thoughts on saving for their child's college education and you will probably get 10 different answers. Those answers will range from, "My parents didn't help me through college, and it made me appreciate it even more — So I don't plan on helping my kids with the cost," to "I plan on paying for all of the costs, even if it means I have to go into debt to do it." While those are the two extremes, I think most parents fall somewhere in between.
Recent college graduates who took out student loans borrowed on average $30,000, which is up 26% compared to 10 years ago. If parents are looking to keep their children from starting behind the proverbial eight ball with a pile of student debt at graduation, saving for their education is critical.
Q. When should parents start saving?
Parents should start saving for their children's education as soon as possible. The most valuable asset when it comes to long-term investing is time. Time allows investors to capitalize on compounded interest. For example, if you invest $200 per month from the time your child is born until the day they turn 18, you will have accumulated nearly $78,000 (assuming a 6% rate of return). Comparatively, if you begin investing $400 monthly beginning when your child is 10 years old, using that same 6% growth rate, you will have amassed about $49,000. Don't take a "wait and see" attitude when it comes to savings.
Q. What goals should parents have?
Parents should set realistic goals when it comes to savings for their children's education. As an advisor, I have seen families place too much of an emphasis on education savings while sacrificing their own retirement savings (you can borrow for college, but not for retirement). I've also seen the opposite end of the spectrum where parents have analysis paralysis and don't save at all because there are so many savings options and so many variables when it comes to how much college will cost in the future.
Instead of focusing on the unknowns of the future, like if the child will go to state school or private or if the child will receive a scholarship, I help my clients save for college using the knowns of today. We know that 529 plans provide a great savings tool for tax-deferred savings, tax-free distributions (when used for qualified expenses), and even state tax deductions (depending on your state). We know that saving earlier is more advantageous than starting later. We also know that while it would be nice to pay for all of a child's education, it isn't a requirement. With those facts in mind, I am able to help clients create an education savings plan that meets their goals in the context of their entire financial picture.
There is obviously no one-size-fits-all financial answer for savings goals. However, there are two goals that all parents should prioritize. The first goal should be to at least have a plan. If they need help with that plan, that is where a comprehensive financial advisor comes into play. The second goal would be to start saving as early as possible on a systematic basis. If you are worried about not knowing what to invest in, many state-sponsored 529 plans make the investment decision easy by grouping investment options based on the amount of risk you are willing to take or by the age of the child.
Q. What pushed you to make the savings decisions you've made for your children?
The statistics are shocking when looking at the difference in earned income between graduates of high school and college or trade school graduates. I want my children to have every opportunity to obtain as much schooling as they want and need to live productive and enjoyable lives. While I know that my wife and I might not be able to pay for all their education, I know every little bit helps.
As an advisor, I see clients who have mountains of student debt and feel overwhelmed to pay it off. While most do not regret taking on debt for their education, most want to be in a position to help their children avoid the same fate.
Q. Do you have any advice for parents who aren't sure how they can afford to save?
My best piece of advice is if you are unsure about your savings situation, talk to someone who has experience and expertise on the topic. I have recommended to clients that they should focus on their own retirement savings before their children's education unless they want to be working well into their 70s. While the conversation may be difficult, having someone tell you what you need to hear over what you want to hear should be beneficial in the long run.
The other piece of advice is to make saving a priority. There is nothing wrong with living in a nice house or driving a nice car, but realize they come with tradeoffs. Extravagant vacations or "keeping up with the Jones'" might not be the best use of your assets.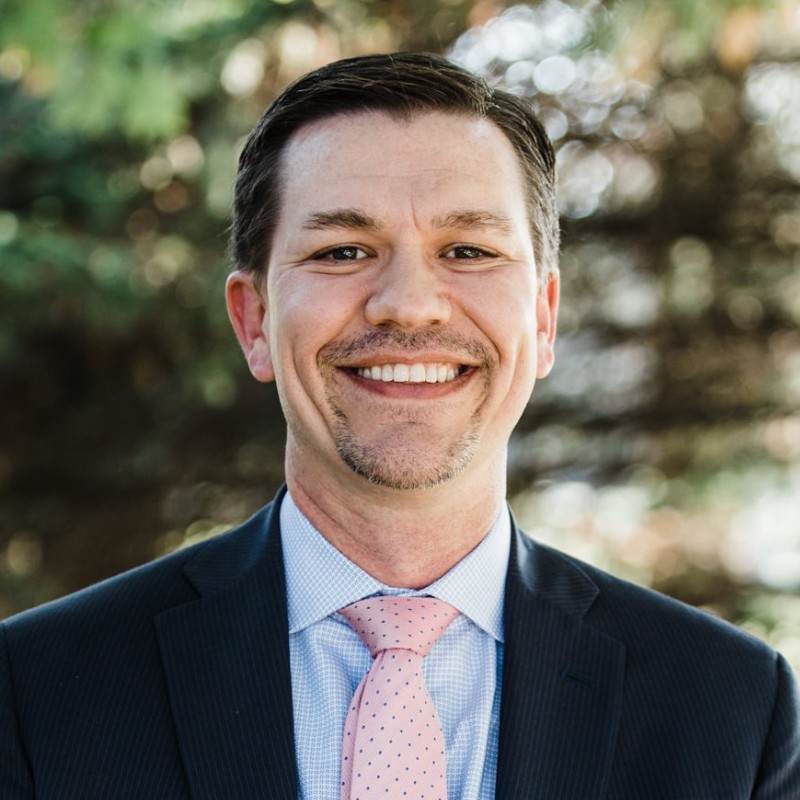 Drew Kavanaugh
Drew Kavanaugh is vice president of Odyssey Group. He is passionate about helping people make an impact today and leaving a legacy for the people and organizations they care most about. Prior to joining Odyssey Group, he was responsible for investment policy review and for portfolio strategy development and implementation for more than $500 million in assets for a local investment firm. Drew earned degrees in both accounting and finance from the University of Arkansas' Sam M. Walton College of Business. He also received his master's degree from the University of Arkansas at Little Rock. Drew is a certified financial planner practitioner. Drew lives in Lancaster with his wife, Barbara, and their two children. He is an avid outdoorsman and conservationist.
Keep up with the latest
Never miss a detail on the news, trends, and policies that could directly impact your educational path.
AffordableCollegesOnline.org is an advertising-supported site. Featured or trusted partner programs and all school search, finder, or match results are for schools that compensate us. This compensation does not influence our school rankings, resource guides, or other editorially-independent information published on this site.
Do this for you
Explore your possibilities- find schools with programs you're interested in and clear a path for your future.