How To Build Credit In College
By Staff Writers
Published on September 20, 2021
AffordableCollegesOnline.org is an advertising-supported site. Featured or trusted partner programs and all school search, finder, or match results are for schools that compensate us. This compensation does not influence our school rankings, resource guides, or other editorially-independent information published on this site.
Are you ready to find your fit?
Building Credit in College
During college, you might not think you need to build a good credit score right away. Living in a dorm does not require a credit check, and learners do not often apply for auto loans or mortgages.
However, by your junior year you may want to live off campus. Finding an apartment or home without a credit history may require a cosigner. Signing up for utilities without a credit history could mean paying a larger deposit.
Immediately after college, individuals typically acquire more disposable income and want to purchase a car or house. These activities require credit checks, and when individuals turn 18, they can start working on their credit score. Keep reading to learn how to build credit for college students with student loans and credit cards.
How to Build Credit in College Q&A
Q. What is a credit score?
A credit score provides a glance at a potential consumer's creditworthiness. Factors like payment history and the age of open accounts impact this score.
Q. What is a good credit score?
Q. How old do I need to be to open a credit card?
Credit card companies issue credit cards to people as young as 18. Most card issuers require credit history.
Q. What is an authorized user on a credit card account?
An authorized user can make purchases on a card under someone else's account. This user can build their credit score without qualifying for a card this way.
Q. Can student loans help me build credit?
Student loans can increase the length of your credit history, and on-time payments also improve a score.
Q. What is a secured credit card?
Secured credit cards require a cash deposit. Usually, this deposit equals the credit limit. These cards provide a way to build a credit score.
How to Build Credit While in College
"Building credit is an important step on the path to financial independence but doing it right is better than doing it early."
Establish Your Credit History
Turning 18 opens the door to many new opportunities, including getting to apply for credit cards. Unfortunately, using a credit card sometimes comes with a learning curve, and failing to use one responsibly can lead to bad credit.
To prevent credit card issuers from preying on inexperienced credit card users, the United States passed the Credit CARD Act of 2009. This law requires a cosigner for credit card applicants ages 18-21 and prevents credit card companies from charging specific fees.
Opening a credit card account early in life pays off. Credit age is one factor that makes a medium impact on a score. Loan officers prefer to lend money to individuals with a longstanding record of making on-time payments.
Use Your Credit Cards Regularly
When it comes to learning how to build credit, regular credit card usage helps. Most cards require cardholders to make a purchase about once every three months for the account to remain active. However, using it more often, like once a month, builds a score faster.
Consider using a credit card for one purpose, like for gas or groceries. Some credit cards offer cashback deals on purchases in specific categories.
Pay in Full as Often as Possible
Try not to think of credit cards as loans. Credit cards often feature steep interest rates, so aim not to carry a balance between statements. Keeping credit card utilization low compared to the credit line enhances a credit score. Set up auto payments, and always pay more than the minimum due.
Get Help from Trusted Resources
College students wondering how to get a credit card without a credit history should consider asking a trusted adult for help. Seek assistance from a reliable parent or grandparent with good credit to add you as an authorized user on one of their cards. Authorized users can make purchases on a credit card on someone else's account.
While becoming an authorized user builds credit for college students, it can also hurt their scores if the primary account holder fails to make on-time payments. Confirm that the credit card company reports the authorized user's information to credit score organizations before applying.
Acquiring a secured card also allows individuals to build their credit. Many credit card companies allow people without a credit history to apply for one of these cards before graduating to a conventional credit card. Secured cards require a cash deposit equal to the credit line. Individuals make purchases on this card and pay them back before the bill's due date.
Shop Around
Just like choosing the best college takes research, finding the right card takes time. Credit card companies offer different perks and interest rates. Keep in mind that applying for credit cards creates a hard inquiry on a credit report. Too many hard inquiries negatively impact a score. For this reason, consider limiting applications to cards that offer the best perks and pre-approval odds.
Besides benefits and interest rates, card applicants should consider credit limits, annual fees, and late fees. Cards with multiple benefits like airline points or travel rewards typically require an annual fee. While you should enroll in autopay, pay attention to the cost of missing one payment. As far as credit limit goes, avoid using the maximum amount each month. A high balance-to-credit-limit ratio lowers a score.
You can also try negotiating with a company for a higher credit limit or lower interest rate. Also, applying for a credit card through a local bank allows individuals to benefit from in-person services.
Only Apply for What You Need
When potential lenders or credit card issuers access a credit report, it creates a hard inquiry. These hard inquiries impact a credit score and take about two years to fall off of a credit report. Luckily, a few of them only make a low impact on a score.
However, opening up or applying for too many cards at once in the early stages of a person's credit history can make it hard to build back-up credit. Only apply for a few cards with high approval odds.
Check Up Frequently
Responsible credit card usage is key to achieving good credit for college students. Part of responsible use includes checking card statements and credit scores frequently. When selecting a service to monitor your credit, avoid online scams.
Contact your bank or credit card company to ask for the best credit score resources. For example, Bank of America offers free credit score reports through its app.
The Fair Credit Reporting Act requires the three main crediting bureaus in America to provide individuals with free annual credit reports. These agencies include Equifax, Experian, and TransUnion.
"Fees for things like being late or missing a payment are also important to know. We may not plan to miss a payment or be late, but life happens sometimes."
Expert Advice for College Students: Building Credit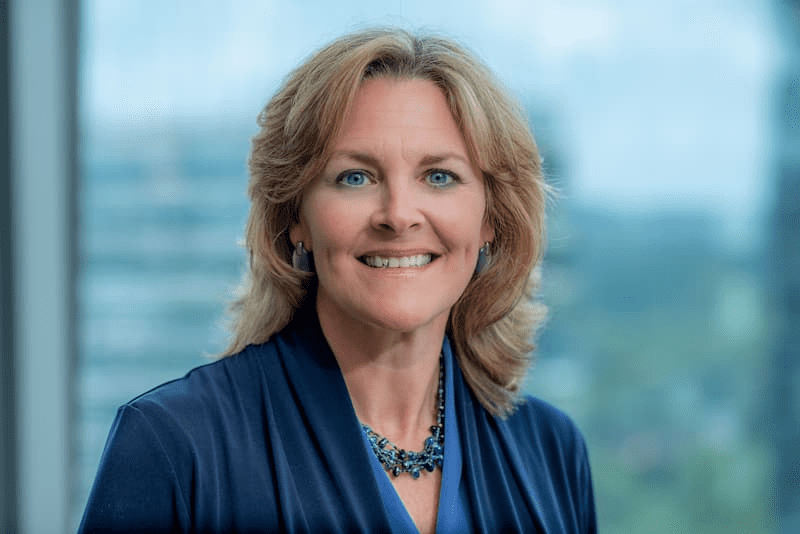 Tana Gildea
Tana Gildea, CFP, CPA, CCFS, is a principal at Homrich Berg Wealth Management. She served as the chief compliance officer at Compass, helped with many of the administrative aspects of running the business, and worked with a variety of clients. She also became a certified college funding specialist in 2011, just as her first child headed off to college.
Q. When is the ideal time to open your first credit card?
When you can responsibly manage it. Building credit is an important step to financial independence, but doing it right is better than doing it early.
It is difficult to perceive how often we swipe because each swipe is generally small. Spending $5 here and $10 there does not feel like much, but it adds up quickly. A person must be disciplined enough to monitor the balance and ensure that they can pay it off in full each month.
Carrying over $500 at 24% interest for just one month adds $10 to the cost of that item. Carry it for six months, and you have added $60 to the cost.
Being responsible about charging is only part of the process, though. You must also be responsible about paying the bill on time every time. Late payments cost you money in fees and black marks on your credit. If you are not organized and able to manage a bill pay process consistently, it might not be the right time to open a credit account.
Q. What should people look out for when choosing their first credit cards?
Rewards are an easy selling point. Cash back, airline points, hotel points, and other perks are attractive. If you need to carry over a balance on occasion, then interest rate is critical. Fees for things like being late or missing a payment are also important to know.
Q. Why is building a credit history important?
Your credit score determines whether you can get loans or credit cards, and how much it will cost you (what interest rate you will pay on that borrowing). For example, a quick search of mortgage loans on Bankrate.com shows that a 30-year loan will cost about 2.25% for someone with credit above 740. Drop the credit score to 700 and the rate goes to around 2.75%. A 620 gets you 3.5%, and in the 580-619 range, there are no offers.
On a $200,000 loan, your monthly payment would be $764.49 with an interest rate of 2.25%. Over 30 years, you would pay $75,217 in interest.
The same loan at 3.5% raises your payment to $898.09. In this case, 30 years of interest is $123,312. The same house with a different credit score means a different interest rate and a lot higher cost.
Excel has a free loan amortization template that you can play with to see payment, lifetime interest, and the impact of paying a bit more on your monthly payment.
Q. What advice on building credit would you give to college students specifically?
Credit score is not just related to credit cards and other loans. Your bank account history matters, too. You can begin to develop good credit by having a checking account and not overdrawing it.
Have overdraft protection on your checking account. That means linking to savings or a credit card so that you do not overdraw.
Set up alerts so you get a text if your balance drops below a pre-set amount.
Set up a baseline amount that you will not drop below. If you set it at $100, discipline yourself to not go below that number.
Credit score involves many components, with one of the biggest being time that you have had credit. Starting at a time when you can spend small and pay big on the card will help. Always pay on time. Set alerts, put it in your calendar, and set up auto-pay.
If you find yourself in a bind, call the credit card company quickly. Companies want to keep customers so it is better to call and explain issues than ignore the problem.
Q. What are the biggest or most common mistakes people make when starting out on their credit journey?
Failing to face problems can be costly in terms of fees and credit score. If there is a mix-up, call the credit card company. Ask for a one-time fee waiver. Ask for a change in payment date if the timing is not lining up with your pay schedule. Give them your plan to get back on track. Document your calls and your efforts. If you are in over your head, there are free consumer credit resources to help you get it sorted. Act quickly rather than burying your head in the sand.
Q. How do student loans affect your credit score?
Paying your loan on time every time will help your score. Paying late and missing payments will hurt your credit score. I always encourage students to take as little as they can in loans and try to pay some of the interest monthly once they draw a loan.
People have this illusion that they will have plenty of money when they get a job. Maybe, but loans add up quickly and repayments can be expensive. What seemed like an enormous amount of money can be committed in no time.
I always recommend that new graduates with student loan debt keep living "poor" regardless of their salary and start throwing money at those loans. Do everything possible to pay off loans before incurring other debt. Keep driving the old car, get a cheap apartment, or live with your parents for a while. Paying off a large amount of debt quickly looks good and feels even better.
Make a spending plan prior to committing to anything. Get a full picture of your net pay (there are online calculators.) Understand the cost of utilities, parking, and insurance. Understand how much repayments of student loans will be and when they will start.
Keep up with the latest
Never miss a detail on the news, trends, and policies that could directly impact your educational path.
AffordableCollegesOnline.org is an advertising-supported site. Featured or trusted partner programs and all school search, finder, or match results are for schools that compensate us. This compensation does not influence our school rankings, resource guides, or other editorially-independent information published on this site.
Do this for you
Explore your possibilities- find schools with programs you're interested in and clear a path for your future.